My mission: To be an instrument in God's hands
Image: A MUSIC LESSON in progress at Gandhi Ashram School, a place where music and educating the whole person help create positive opportunities for disadvantaged students.


I GREW UP
in a family of nine children in a remote, rural, poverty-stricken area. At home we were not encouraged to think for ourselves nor have a positive outlook and self-image. Because my parents were preoccupied with making ends meet, they had very little time for providing better opportunities for their children. In India economic poverty takes the form of lack of basic needs of shelter, food, clothing, education, and health care. The living standard being very low, life can be very cheap.
Plagued by self-doubt
Eventually I found my way to the Jesuits, and in 1986 I joined the Society of Jesus. The two years of the novitiate, an intense period of silence, solitude, and prayer, was arduous yet enjoyable. I went through the long years of formation as a Jesuit scholastic without many hurdles, but lingering self-doubt and uncertainty from my childhood followed me, and I struggled because I wasn't sure whether I was making the right decision. There was a pervasive feeling of inadequacy and unworthiness; I wanted to run away even from myself. I wanted to be different, anything routine and run-of-the-mill would bore me to death.
VIOLINS in a Gandhi Ashram School classroom.
Never a dull moment
I persevered through the help of my community, and in June 2006 I became director of Gandhi Ashram School—a commission that was far from boring and helped me overcome my own insecurities as I worked to help others facing similar challenges that come with poverty.
Quickly I learned to trust in God's providence. Since then it has been my experience that when we do God's work, he supports us—whenever we had no money, someone unexpected would come to our rescue. My work in Gandhi Ashram has taught me to live by gospel values: to be humble; to walk the extra mile; to turn the other cheek; to "give away your coat"; to suffer pain; to sacrifice my time, energy, and my space and freedom—and yet be happy!
TWO GANDHI Ashram School students.
Among the unique features of Gandhi Ashram is training in the violin. This training begins in first grade and continues until the students complete their schooling. Music is used as an instrument in educating these children, to lift them out of their adverse life-situations and reorient them by motivating them and helping them to discover and listen to their own inner music, the complex melody of the music of their hearts.
Additionally we impart the children with life-coping skills, values of love of God, compassion, benevolence, and service to others. It is all about creating life-enhancing opportunities. When opportunities are equal, the distinction between the poor and the rich ceases to exist. Success is understood in terms of developing the full potential of the children and leading them to excellence that opens up numerous possibilities of being and becoming.
Being a universal language, music breaks the barriers of caste, creed, and social and economic status. The school encourages those who excel in music to go for a career in it, although the primary aim of the school is not to produce musicians but to encourage all-around growth, with music at the heart of the education process.
A GANDHI ASHRAM School classroom.
Seeing yourself in others
Working closely with the poor is a privilege with a reciprocal effect. The exchange that takes place is transformative. You must face your own lack of confidence and belief in yourself even as you help others out of the cycle of self-destructive behavior, frustration, and fatalism.
Poverty has to be fought at two levels, outer—material—and inner—psychological and spiritual. Much material poverty is the result of someone's or some powerful group's unwillingness to share and care and love. God, however, has a preferential option for the downtrodden. The poor are humble and receptive as they experience their dependence on God. I believe the poor represent God's love and compassion.
HILLS AND RICE terraces surrounding Gandhi Ashram School.
God has loved me so much in and through his Son Jesus Christ to an extent that I do not deserve. He gives himself to me through security, food, family, friends, and nature, and in response to his overwhelming love I try to give myself to him in surrender and service and thanksgiving. I do not think I will do anything great in my lifetime. Isn't it sufficient if God's greatness itself shines through me?
Sometimes I wish I were a billionaire. At other times I wish I had the power to solve all the world's problems and make everyone happy. When I come to my senses I realize that God is the ultimate help. He works through me. I am only an instrument in his hands.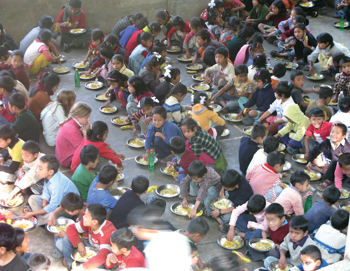 LUNCHTIME at Gandhi Ashram School.
Tags
Related
Most Viewed
Most Emailed
Comments